The Enhanced Data Model for Power Pages is currently in preview, which means that Microsoft intends to release it at some point in the (hopefully near) future for general use.  This is a major change for Power Pages (formerly Power Portal) customizers as one of its many benefits is solution-aware website configurations.
What is the Enhanced Data Model?
When Microsoft released Power Pages' predecessor, Power Portals, the framework was based on that which was developed by a company Microsoft acquired in 2015, Adxstudio.  To this day, Power Pages utilizes at least some of this framework to drive its configurations (for those of you wondering why some objects in website configuration data have the adx_ prefix in front of it, here's your answer).
While the current Standard Data Model utilizes custom tables to house website configurations, the Enhanced Data Model uses a combination of system tables, non-configuration tables, and virtual tables to achieve the same outcome but with less reliance on custom configurations.  According to Microsoft, the Enhanced Data Model provides the following improvements to Power Pages:
Faster provisioning of websites.
Faster design studio experience.
Website configurations can be contained in solutions and are able to be deployed across environments.
Various Power Pages enhancements and bug fixes.
Which Data Model is my Power Pages Website Using?
You can easily determine which data model – Standard or Enhanced – your Power Pages website is using by navigating to
http://admin.powerplatform.microsoft.com/, clicking Resources on the sitemap, then clicking Power Pages sites.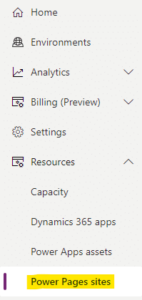 Select your Power Pages site, then click Manage.  (Read the full post on www.beringer.net)