Lead generation is undoubtedly the core part of the sales funnel. It is the process of attracting and generating interest among people with the goal of turning them into loyal customers. 
Leads are created in a business when you take down the primary information of your customers when they visit your website through campaigns, cold calling, etc. Sales reps use this information to convert them into paid customers by providing in-depth information about your products and services.
But, it is not as simple as it may sound.  
Only some leads you generate will become your customer. Converting leads depends on distinct factors such as the quality of leads, ability to pitch, providing accurate information, and so on. A Forbes report states that 
If an organization is unable to produce leads, it will directly have a great impact on revenue generation. And that is why lead generation is crucial to any organization's success.
So, how can you generate leads seamlessly?
 In the era that we are living in, lead generation has become chiefly digital, which is definitely a sigh of relief. As opposed to when leads were generated from exhibitions, door-to-door sales, etc., now business owners can produce leads from social media, web forms, webinars, and more. 
And if you are a CRM user, we at Vtiger CRM have got you covered by providing different lead generation methods.
Vtiger Lead Generation methods
As all businesses will need to generate voluminous leads for a better ROI, the top 4 ways Vtiger CRM has adopted to generate leads effortlessly are: 
Vtiger Google Lead Forms
The Google Lead forms allow businesses to collect lead details from potential customers through search ads. It contains pre-filled forms with different fields making it easier for users to submit their information with just a few clicks.
Using Vtiger integration with Google Lead Forms, you can directly import lead records to your CRM. Vtiger Google Lead Forms help businesses capture more leads efficiently by creating customized questionnaires.
Vtiger Enrich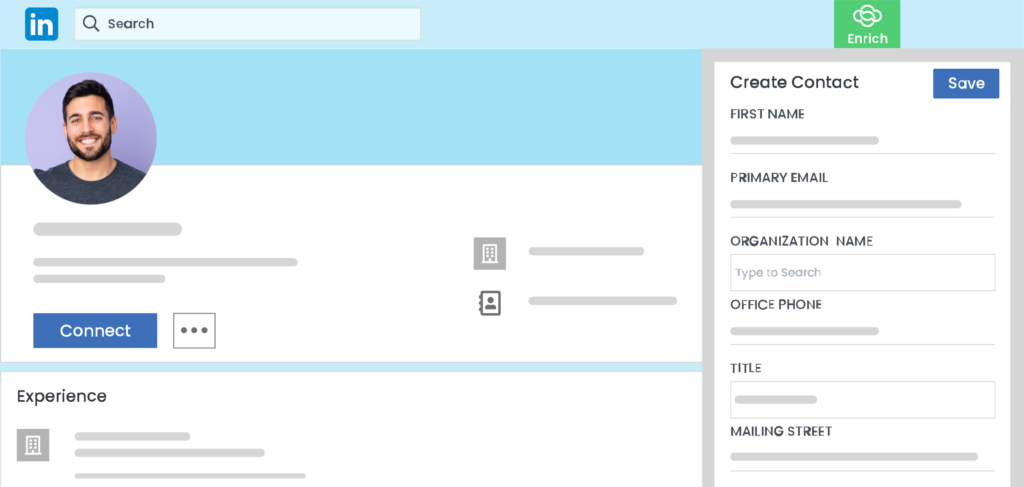 Since social media is a powerful medium to connect with customers and capture potential leads, Vtiger Enrich allows you to convert Linkedin contacts into CRM contact records. With Vtiger Enrich, you can capture profile information such as skill sets, qualifications, experience, etc., and store it in the CRM. 
You can also track leads and engage with them accordingly. It will map the information automatically to the CRM fields and reduce duplication of records.
Vtiger Landing Page

Landing pages are specifically designed to convert website visitors into leads, thus becoming an essential strategy for lead generation. It often acts as an entry point for a particular section of a website; therefore, landing pages must be simple, focused, and visually appealing.
Vtiger's Landing Page module serves all important purposes to create eye catchy products, services, or offer pages using pre-loaded customizable templates. It allows you to create high-quality landing pages with actionable CTA buttons to boost conversions. 
Email Campaigns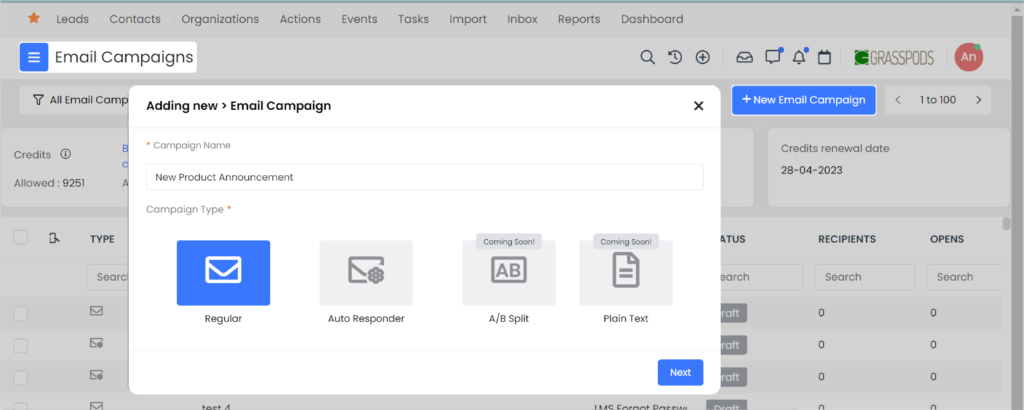 Leads can also be generated from email campaigns if it is done in an appropriate manner. With the Vtiger Email Campaigns module, you can build email marketing lists, segment customers based on demographics, write compelling content with clear CTAs, conduct A/B testing, and more. If all this is followed properly, you can generate quality leads quickly.
Are you someone who wants to experience Vtiger Lead generation techniques in real time?

Read:  Lead Management with AI to get insights into how AI is successfully getting involved in managing leads in the sales funnel.