Hello there!
Another year is coming to an end. We are rather looking forward to 2023. Are you?
In retrospect, 2022 was a mixed bag of challenges and goodies for Vtiger. At the beginning of the year, we had a clear picture of what we wanted to deliver and how – a CRM with a true one view. A one view that helps map customer journeys and deliver great customer experiences.
Before we highlight the milestones of our journey, we would like to thank you for your continued support and trust. Small and medium businesses, as well as enterprises across industries, continue to power their businesses with Vtiger CRM. We also saw many businesses migrate from other CRMs to Vtiger. It means a lot to us!
Now, let us see what you motivated us to achieve. We began transforming Vtiger CRM – from a CRM that simply delivered capabilities to a CRM that could provide custom business solutions in 2021. This transformation got a leg up in 2022.
We began a new tradition by putting the power in your hands. We made it easy for our partners and client developers to build solutions on the Vtiger platform with:
VTAP, Vtiger's low-code toolset, and
The no-code Process Designer to help you design your processes to the minutest detail.
It was exciting to see many of you using these tools to build features like custom dashboards, integrations, and custom modules.
In 2022, we have continuously strived to build an all-in-one platform to help break down information silos between teams and automate business processes. Apart from the above, we also added new features and enhancements to our cloud editions.
Here are some of them.
Our Proud Moments
SFA Magic Quadrant Series, 2022
Did you hear this news? We are rather proud of ourselves for making it to SFA Magic Quadrant Series, 2022. The three key factors that helped Vtiger CRM are:
Vtiger is deployed on Cloud
Vtiger is built on an open-source platform
Vtiger's low code platform – VTAP, an API designer, helps customers in extending the functionalities of the CRM
Vtiger One Learning Edition
On popular demand from universities around the world, we launched the Free Vtiger One Learning Edition for students trying to learn CRM concepts as a part of their academic curriculum.
Vtiger Open Source CRM 7.5
To further our commitment to the open-source community, we launched a new version of our open-source edition, Vtiger Open Source CRM 7.5, with support for PHP 8.x. The open-source codebase is now on the latest version of PHP. It includes many new features and performance improvements.
Today, as we stand at the cusp of another great adventure, we want to thank you for helping us achieve our goals. Let us see what is in store for 2023.
Unveiling 2023 –the year of you!
In the new year, we will be exploring new avenues – verticals and industries. In many cases, we will 're-do' things – enhance features that will delight you in using them.
We are grateful for all your support in 2022. You played a great role in our growth. And we want you to be a part of our journey in the coming year. So we have decided that 2023 will belong to you – our customer .
To further this thought, we made a to-do list!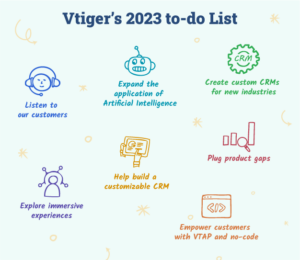 We will be incorporating these technologies into the CRM – at the risk of repeating our mantra – to build a CRM that helps you get more done with less!
We have already begun with Add-ons and Booster Packs that will aid you in expanding the capabilities of your CRM. Also, if you want to avail our Holiday Offers, now is the time!
We are excited about 2023. We plan to enhance user experience, add new features, and explore new industries.
We also want to cement our relationship with you and join our journey. Your organizational success is important to us. If you have an idea to enhance Vtiger CRM, we will build it into our CRM. We are here, and we are listening. Do write to us – [email protected]
Here is to new beginnings and great adventures!
From all of us at Vtiger CRM – Wish you and your loved ones a Very Happy New Year!