Merry Christmas! Season's Greetings! Happy Holidays! And a Happy New Year!
You hear a whole lot of these greetings during this time of the year. Celebrated by both Christians and non-Christians across the world, Christmas brings a feeling of cheer, joy, warmth, and togetherness.
The spirit of Christmas permeates the atmosphere, and the signs pop up as early as November. Advertisements with Santas, Elves, sleighs, gifts under a 'Christmas Tree', plum cakes, etc., – start appearing in public places. Decorative lights are strung up creatively, and shopping often reaches a frenzy by the third week of December.
Was Christmas always like this? What are the origins of this festival?
Christmas celebrates the birth of Jesus Christ. Did you know that the first Christmas was celebrated in Rome on December 25, 336 AD (336 CE), as per records? The word Christmas is a shortened form of Christ's Mass. It was recorded as 'Crīstesmaesse in 1038'. Other languages used Jule in German, Navidad in Spanish, Natale in Italian, and Noël in French to refer to Christmas (1).
The traditions and practices of Christmas have evolved gradually. Earlier celebrations were comparatively quieter. They involved family and friends gathering for prayers and dinner. Elements like the Christmas tree, gifting, and Santa Claus have become integral to the festival.
As Christianity spread across the world, many local practices of significance were also added to the festival. For example, Chickens have replaced Turkeys on the dinner table since Turkeys are not available universally.
The festival we celebrate today is a culmination of all these additions. Let us take a look at a few popular elements that make up Christmas.
The food…

How can food not be a central element of any festival, we ask you. It is said that when baby Jesus was born, dates were shared to celebrate his birth. There are many food items traditionally associated with Christmas – Eggnog, Hot punch, Cookies, Plum cake, Roast Turkey, Gingerbread, and Pudding…if you have a sweet tooth, then this is your festival.
The food also depends on where you live. In Australia, you will find the Seafood Cob and White Chocolate Rocky Road. In India, you will find Sorpotel, Pulao, Rose cookies, Kulkuls, etc. Pickled herring spiced with cinnamon, cloves, and sandalwood is eaten with a wedge of rugbrød (Danish rye bread) in Denmark.
Is your mouth watering already?
The music…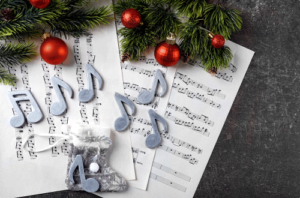 When you have food, how can music be far behind? People have gone caroling for ages – families, friends, and strangers coming together to sing popular Christmas carols. Famous jingles that most of us are familiar with are Jingle Bells, We wish you a Merry Christmas, Deck the halls, and Feliz Navidad.
Then there are well-known carols – Silent Night, 12 Days of Christmas, O Holy Night, The Little Drummer Boy, and so on. This Christmas, we hope you set aside some time to listen to this pleasant and soothing music.
The decorations…

Do you like Christmas decorations? The way homes and public places are lit up and decorated? Though the display of Christmas lights overshadows other decoratives, how can Christmas trees, nativity scenes, wreaths, holly, mistletoe, and tinsel be ignored? Many a time, you will also see Santa with his sleigh and his reindeer carrying gifts.
Then there are Christmas trees with decorations of all types hanging on their branches. Everything from popcorn to lights to photos to family heirlooms is considered suitable.
Did you know people in tropical countries without Fir and Pine trees decorate mango and bamboo trees instead?
And nativity scenes are not to be missed. Across the world, it has become something of a tradition to go around the neighborhood to see the creativity of nativity setups.
The gifting!
How did the gifting on Christmas start? The practice of giving a gift is associated with the three Magi (the three kings or the three Wisemen) who came to visit the baby Jesus with gifts. There is also the practice of Santa Claus bringing gifts to the children. This story is connected to Bishop Nikolaos of Myra (fourth century CE), who was fond of giving gifts to people.
Do you know that letters written by children to Santa Claus (in some countries) are sent to a North Pole address?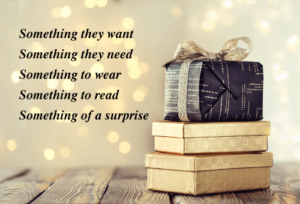 Exchanging gifts is a time-honored tradition, which is supposed to be older than Christmas itself. If you are not done with your gift shopping yet, review the five rules of Christmas gifting before buying.
The last rule concerns a gift the recipient needs or wants but doesn't know or has not realized they want it. Also, a gentle reminder – not everyone is fortunate to give or receive a gift. Do extend a helping hand.
Christmas @Vtiger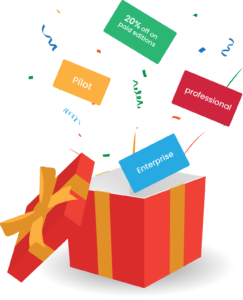 Our tree is ready, and our celebrations have started. Decorations are being put up, and we also have a desk decoration competition going on. Vtiger employees are playing Secret Santa , and we already know who we are gifting to.
This year, Vtiger also wants to gift you all with special holiday offers that will help you plan and perform 2023 better!
From 20% off on annual plan subscriptions to various freebies on Add-ons and Booster Packs, we have something for new and existing customers!
With Add-ons and Booster Packs, you can add required features or increase their limits. The choice is with you. Now is the time to put a plan in place to increase efficiency and boost your sales with Vtiger CRM. Click on the image below to avail these offers!