Hello Folks!
Welcome back to
Boost Productivity with Google Workspace Integration
blog series. In this blog, we will introduce you to Google My Business integration with Vtiger CRM which helps you in increasing your brand's online presence in Google Search and Maps.
Let us delve deep into it by looking at a simple use case below.
Manoj opened a restaurant in Bangalore at the time of COVID and his intention was to serve food at reasonable prices to those who were severely affected by the pandemic. He was targeting those people who lost their jobs, and could not afford a meal in a day.
Since he was a novice in the world of business, not many people were aware of his new venture. Hence, he was not able to attract more customers and was facing a major downfall.
What could be the common reason for the pitfall in his business? Lack of online presence.
With a surge in the number of people completely relying on digital platforms, it is important to increase your brand's visibility online and get listed on Google Search and Google Maps.
Now, what is the optimal solution to attain a virtual presence that could have helped Manoj in expanding his business?
The best possible way for him was to implement Google My Business integration with CRM. Let us understand Google My Business first and explore its integration with Vtiger CRM in the following section.
Defining Google My Business
Google My Business is a social tool that helps entrepreneurs optimize their business profiles online. In simple terms, it means when customers search for a product that your business offers, your profile appears in the local search results of Google and Maps. This way you will be able to reach a large number of people in a limited time.
A report by Google states that 50% of customers use Google to discover or find a new brand.
In Manoj's case, if he had got his business profile listed using Google My Business, he could have taken his brand to another level.
But, there are many other factors that should be taken into consideration apart from focusing on local listings. With Google My Business, you can add information like address, contact details, location details, etc. You can also add a small description of your organization, opening and closing hours, and so on.
With the My Business tool, you can promote an event, post offers, give a glimpse of the top products that you provide, etc. With all this information, you will be able to win trust and loyalty of customers and also gain credibility. Eventually, you will be able to target more sales conversions and bring a better Return on Investment (ROI) for your business.
By now you must have got an overview of My Business and its features, let us understand more about it by looking at Google My Business and Vtiger CRM integration.
Syncing Google My Business with Vtiger CRM
You can link your My Business account with the Social module in Vtiger CRM and manage your online business activities. As it is mentioned above, Manoj can perform different actions like:
Creating multiple accounts of Google My Business
If Manoj has plans to expand his restaurant in different locations like Hyderabad, Kerala, Delhi, etc., he can create My Business accounts accordingly and give business details based on the locations.
Building a customized dashboard

Manoj can use Compose a Post feature to write a description about his business, add details of the special dishes along with photos or videos, discount offers on particular dishes, etc. He can also mention a Call to Action at the end like Book or Order Now. Once he clicks on the Post, it will be posted.
After posting the content, he can get insights into the number of views and clicks. If he wants to schedule it later, he can use the Schedule a Post feature and mention the date and time of his choice. He can reschedule, edit or delete his post at his convenience.
Adding FAQs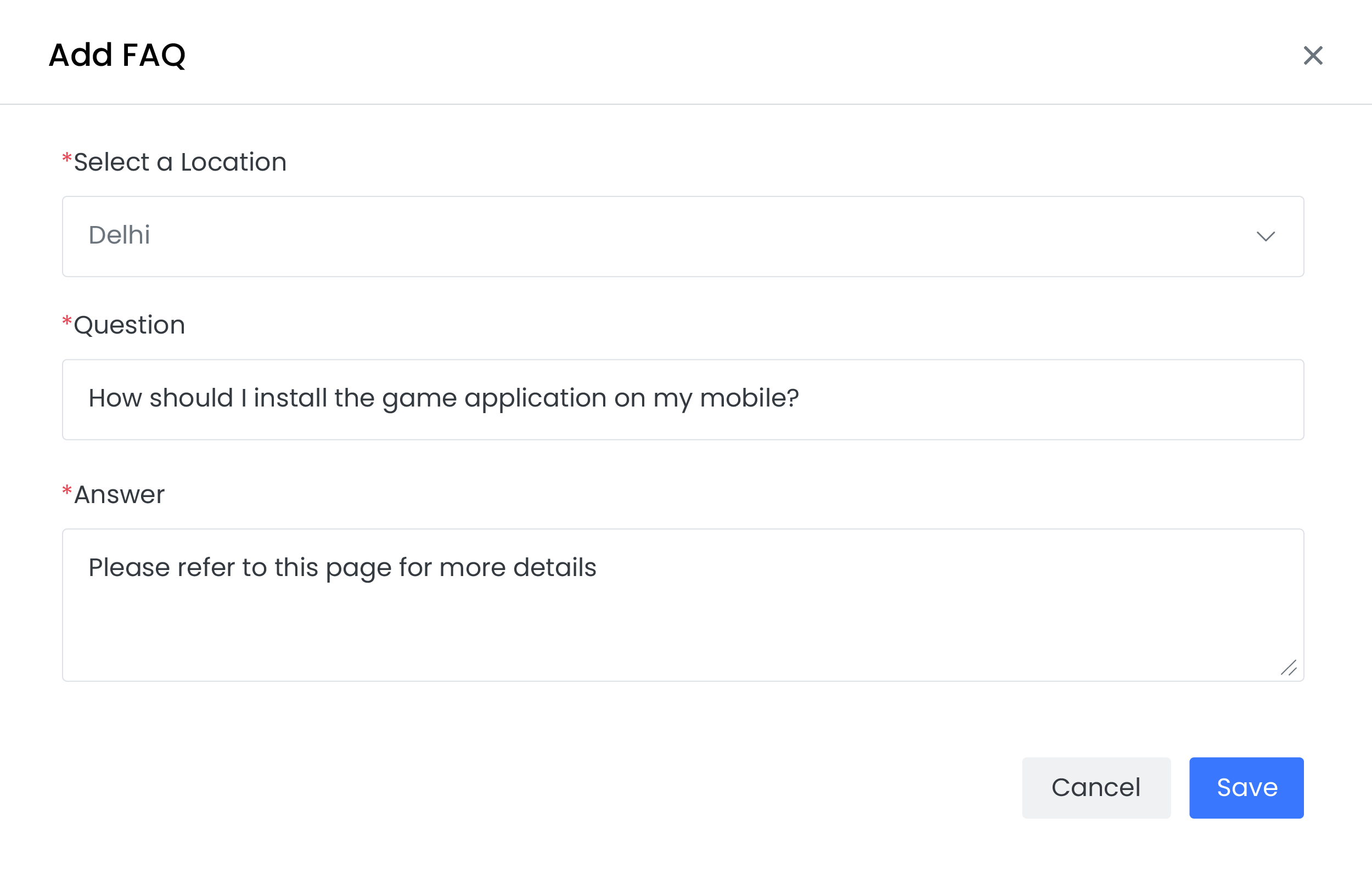 Manoj can add frequently asked questions (FAQs) to help his audience know more about his business.
Managing reviews and questions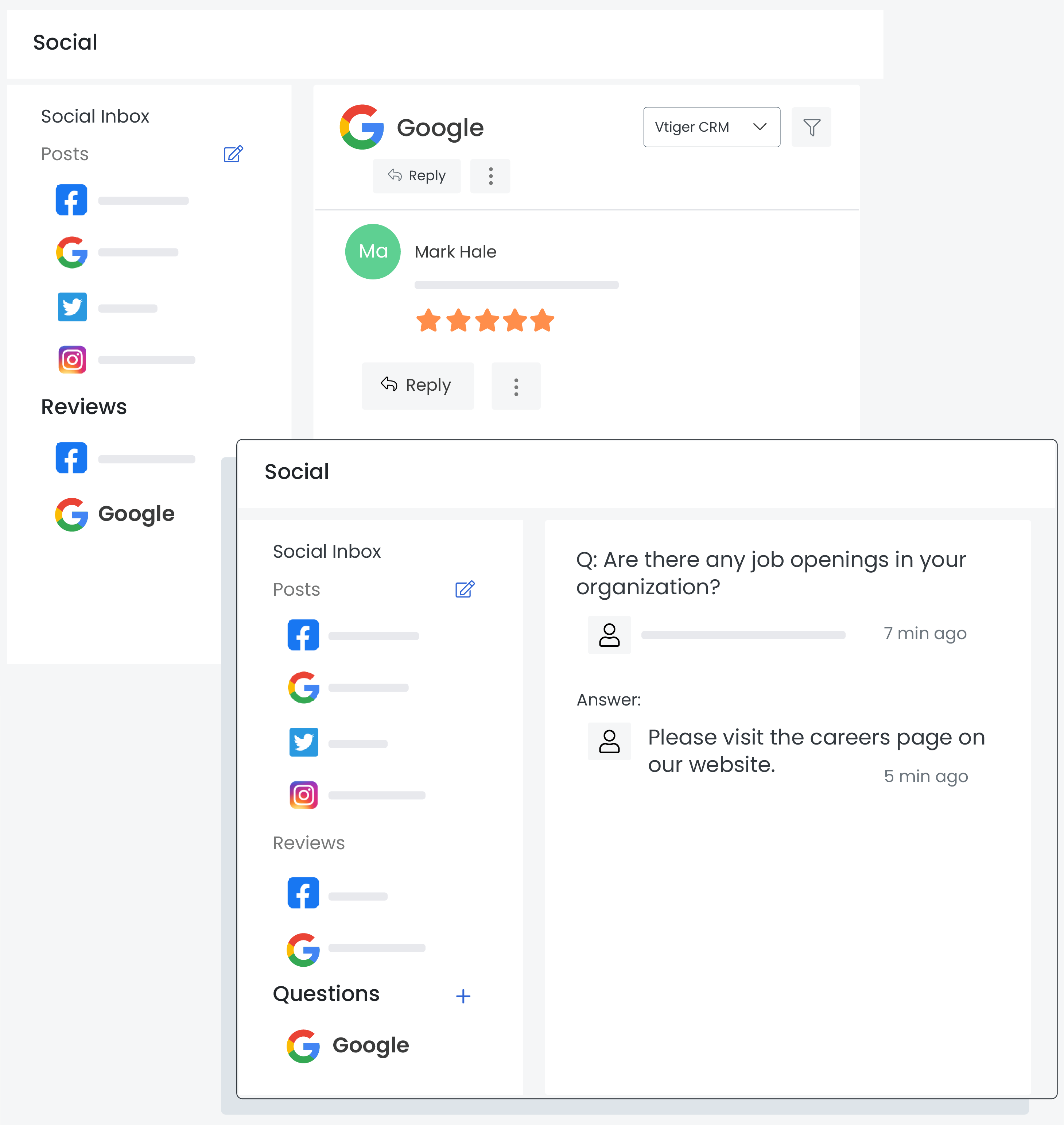 When a customer leaves a review in the Google Reviews section, he can directly respond to them from the Vtiger Social Reviews window. Similarly, if a customer has posted a question asking Manoj if there is an online delivery option available at his restaurant, he can respond to the customer in the same manner.
Creating or updating customer record

Vtiger's Google My Business integration also allows him to create new lead records directly from the All Posts or Reviews section in the Social module. This will help him in recording leads faster and aim for fast conversions.
To know more about it, please click on the step-by-step guide on Vtiger Google My Business integration.
Now, how can Manoj benefit from such integration?
Using Google My Business and Vtiger CRM combination he can:
Perform activities such as scheduling posts, responding to reviews and questions can be done from a centralized location. He doesn't have to use My Business account and CRM simultaneously which saves a lot of time.
Strengthen the reach of his brand and get it discovered on Google Maps and Search easily.
Have real-time interaction with customers by responding to their feedback.
Gain actionable insights from the number of views and clicks which can help him take his business in the right direction.
So, how does Vtiger Google My Business integration help you in boosting productivity?
With Google My Business integration, you can get involved in boosting your presence on Google platforms from a single place instead of toggling between different screens. And, also you can have live interaction with your customers, get their queries solved on time without making them wait for long, and create leads faster in a blink of an eye.
Take advantage of Vtiger Google My Business integration without a second thought.
Sign up now and enhance your social presence.
———————————————————————————————————
Click the below link to read other blogs from the series