Hello Folks!
Welcome back to
Boost Productivity with Google Workspace Integration
blog series. We are coming towards the end of this integration series with only a couple of topics left to discuss.
In this blog, we will be discussing how Google Calendar in Vtiger CRM works which facilitates you in managing your day-to-day tasks without a pause.
Let us consider an example to understand it more precisely.
Neha, a quality controller worked at a pharmaceutical company. Her work revolved around testing different drugs that common people can consume.
She used to lead a team of four to five people and one of the obstacles she faced was her team members were not turning up when she schedules a call for a team meeting. Her teammates would give excuses like they were not informed about the meeting, or they missed it due to urgent work, and so forth.
Here, what is the best possible solution you could think of that would have assisted Neha in coordinating with her team smoothly?
She could have implemented Google Calendar integrated with a CRM to schedule meetings virtually and set reminders to remain alerted before the expected date and time.
Let us see how it works by considering Google Calendar integration with Vtiger CRM as an example. Before that let us get an overview of Google Calendar and its functions.
What is Google Calendar
Google Calendar provides you with a platform to schedule online meetings, create appointments and tasks. You can manage your events by adding detailed information like the Title of the meeting, a short description of the meeting agenda, location, etc. You can customize it as per your choice by setting meetings daily, weekly, or annually. Also, reminders can be set up one day or a week before the scheduled time.
Next, let us hop on to the section below to know about Vtiger Google Calendar integration.
Managing calendar in Vtiger CRM and Google Calendar

When you link Google Calendar with Vtiger CRM, you will be able to sync your events from Google Calendar to Vtiger CRM and vice versa (Two-way sync). For that, you need to configure settings by switching to the Vtiger Events module. You can choose to Sync from Google to Vtiger, Vtiger to Google, or both ways as per your business requirement.
Click here to know more about step by step configuration of Vtiger Google Calendar integration.
Once the integration is done successfully, you will be able to schedule events either from Google Calendar or different modules in Vtiger CRM. The events created will be automatically reflected and recorded in both locations.
Calendar in Vtiger CRM
Suppose, Neha is updating a contact record in the CRM and suddenly she remembers to schedule a webinar on the best medicine manufacturing practices with her colleagues.
So, instead of switching to her Gmail account to create an event from Google Calendar, she can use the Vtiger Events module and add all the relevant information. Information such as Subject, Activity type like Call, Event, Group Event, etc., can be added. Once saved, it will be displayed on the Google Calendar.
She can also create events from Vtiger Contacts, Deals, or Quick Create section. There is also an option to schedule a normal call or mobile call. And, by clicking on the Calendar icon she will be able to create tasks and projects by adding start and setting due dates.
Calendar in Google Calendar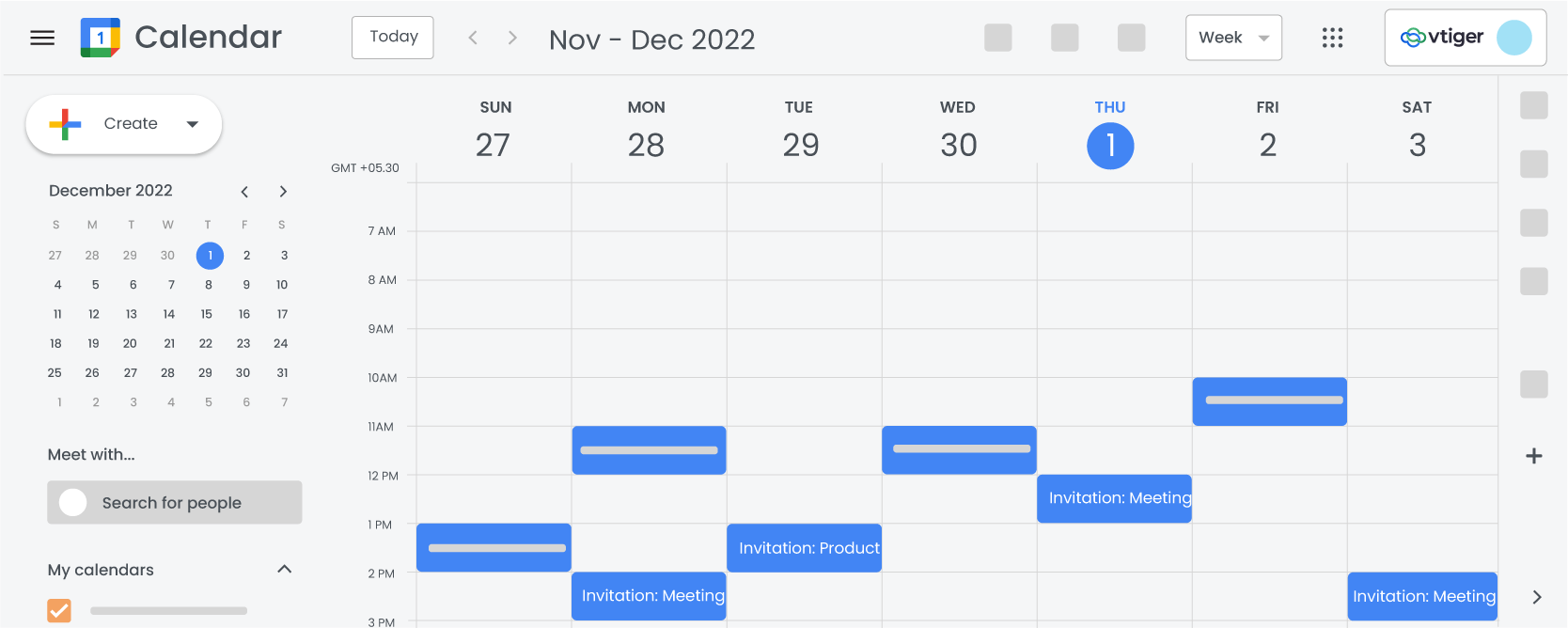 Similar to Vtiger CRM, events or meetings can be scheduled from Google Calendar which will be recorded in the CRM. This is only possible if she sets up Sync from Google to Vtiger in the Vtiger Events settings.
You can book an appointment slot, and create a task by adding in-depth information.
Neha can assign a task to her teammates to conduct Phase 1 or 2 of the drug trial by mentioning the date and time to start and end the task. This way, her team members will be able to deliver the tasks without missing the deadlines.
Benefits of Google Calendar and Vtiger CRM integration
Some of the primary benefits of Google Calendar and Vtiger CRM syncing are as follows:
You can reduce toggling between Google Calendar and CRM applications. It allows you to plan your activities from a single location which is time-saving.
You will be able to have an overview of your current and upcoming events by looking at the Calendar. This will aid you in organizing your tasks, events, and appointments properly.
You can also set up reminders to get notifications and stay informed about forthcoming meetings.
To get a sneak-peak of Vtiger Google Calendar integration, click here.
So how does Google Calendar integration with Vtiger CRM helps you in boosting productivity
By having a Google Calendar integration, you can get more tasks done in less time by prioritizing your activities. You can have a fair idea if your meetings, events, or tasks are colliding with each other and have a strategic plan before creating an event.
Now, if you are someone who is facing the same challenge as Neha, unlock the power of Vtiger Google Calendar integration for your business.
Subscribe to the Vtiger CRM now itself.
———————————————————————————————————
Click the below link to read other blogs from the series