Hello Folks!
Welcome back to
Boost productivity with Google Workspace integration
series. In this blog, we will be discussing the features and benefits of integrating Vtiger CRM with Google Meet.
If you are working remotely, collaborating with your team members over audio calls does not always work. Sometimes, you may want to show a presentation to your team, or if a customer is facing an issue with your product, you may want to see the issue live to fix it quickly. In situations like these, it is better to make video calls which allow you to share your screen with multiple people at the same time and connect with them virtually.
According to a report by Lifesize on the Impact of Video Conferencing report, 55% believe companies that use video conferencing are more collaborative.
Now, what is the preferred application to carry out video calls seamlessly to engage with customers as well as teammates sitting in the comfort of your home? One of the best apps out there is Google Meet.
And if you are a CRM user? Then the ideal solution would be to integrate Google Meet with your CRM.
Let us learn about Google Meet first.
What is Google Meet
Google Meet is a popular video-conferencing app that empowers various teams to connect from different locations. It allows you to create meeting links and share it with hundred participants at once. Google Meet is compatible with various devices like laptops, mobile phones, iPad, etc., and it also allows you to share screens with your team members.
Using the Meet application, you can see the number of participants who joined the meeting. You can mute or unmute audio, add or remove participants, share files or links using the chat feature, etc.
The only limitation is that you can only attend a meeting if you are signed into your Google account.
Now, if you are a CRM user, you can integrate your Google Meet application with a CRM and share meeting links from different modules. Let us understand it more by looking at the Google Meet integration with Vtiger CRM.
Connecting Google Meet with Vtiger CRM
By now you must have understood Google Meet helps you to carry out engaging conversations within and across organizations. With the number of tasks that are being assigned to you on a daily basis, it is difficult to log in to the Google Meet application all the time to conduct video conference calls. Switching between different applications is time-consuming, thus Google Meet integration with Vtiger CRM is a viable option for effective collaboration.
In Vtiger CRM, Google Meet is available in the Events, Contacts, Deals, and Live Chats modules once the extension is added.
Events module

In the Events module, you can quickly create an event by clicking on Add Event. For example, if you want to discuss sales quota with your team members you can create an event and add all your team members. You can include relevant information like Name of the event, add participants using Assigned To, Start and End Date, agenda of the meeting, etc. In the Activity type, you need to select Google Meet to create meeting links.
Other modules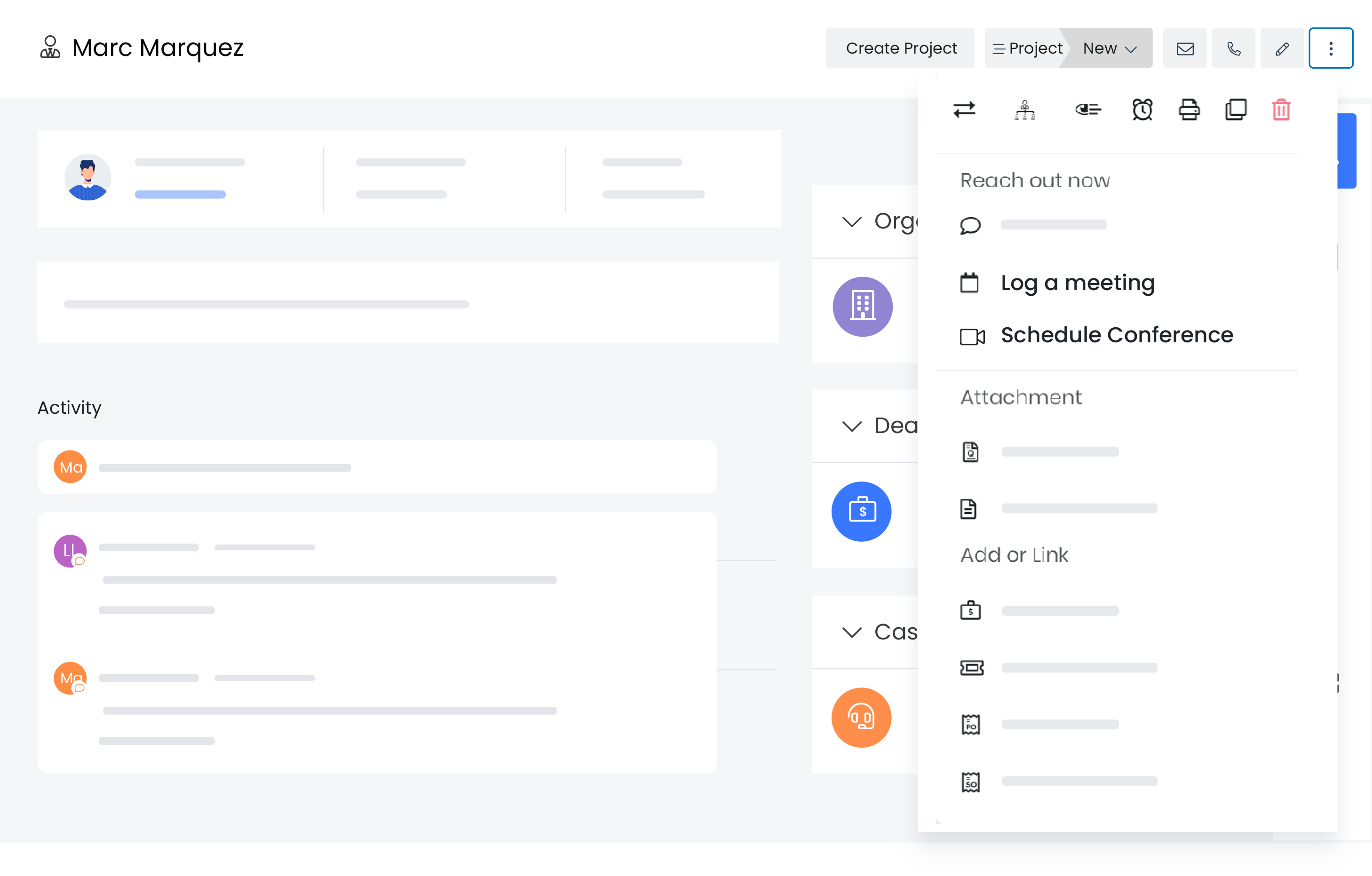 In the Vtiger Contacts, Deals, and Live Chats modules, click on a particular record to schedule meetings directly from Vtiger Summary View.
Google Meet is available as Log a Meeting or Schedule Conference in these modules. In the former, you need to select Google Meet from the drop-down menu and in the latter, it is available by default.
For example, using these modules meetings can be conducted to resolve customer queries, schedule demo presentations, conduct webinars on a recently launched feature, etc.
For contacts and deals, you can also send meeting links through emails by inserting links. You can click on the email icon present in the Summary View and while composing emails, you can click on Schedule Conference to schedule a meeting via Google Meet.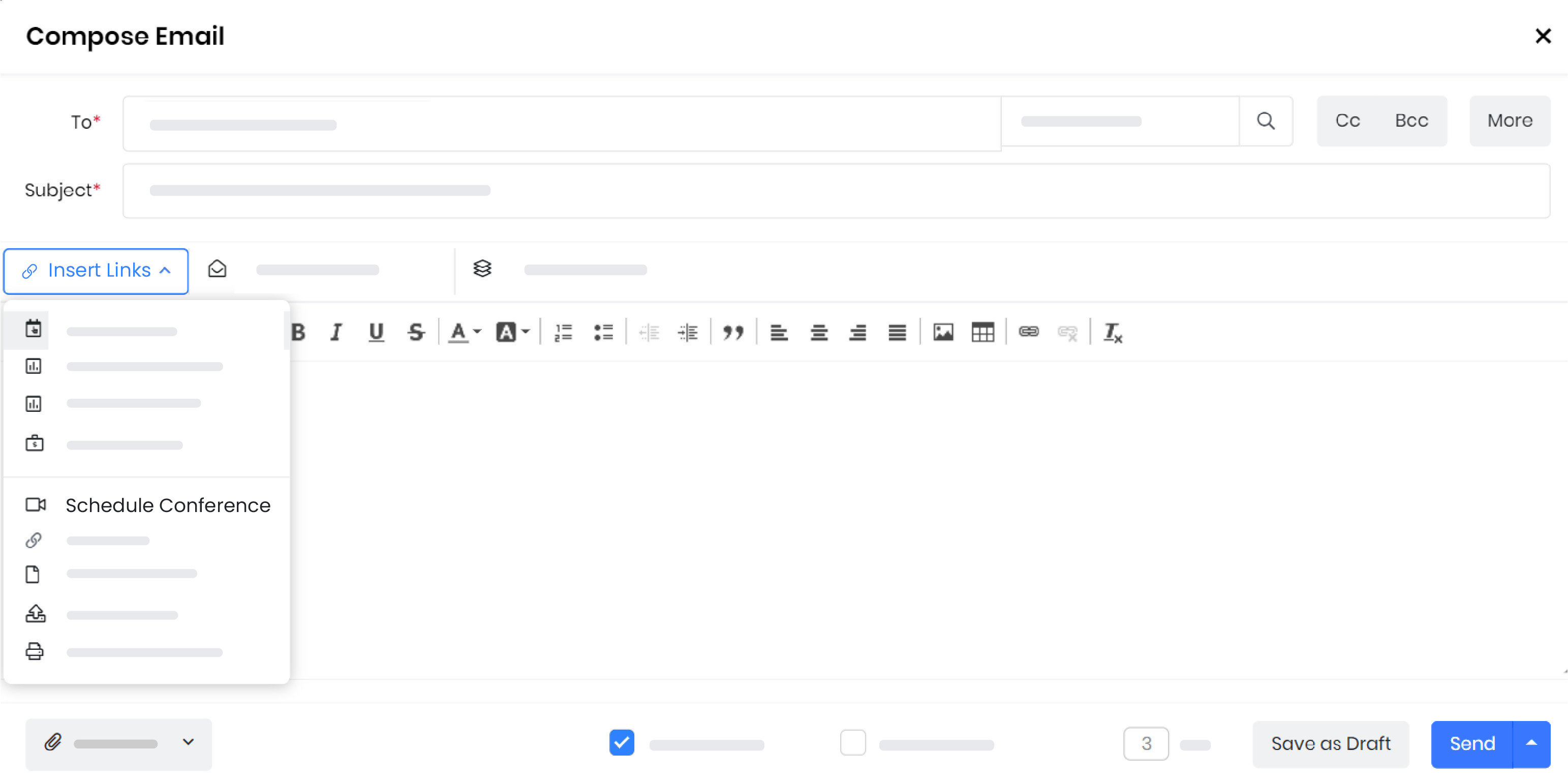 Click here to know more about Google Meet and Vtiger CRM integration.
Now, what are the advantages of having a Google Meet integration with Vtiger CRM?
Let us shed some light in the following section.
Benefits
Using Google Meet and Vtiger CRM integration you can:
Add detailed information about the meeting
It will be helpful for participants to get an overview of the meeting agenda by adding information like start and end date, description, etc. Not just that, you can take down meeting notes quickly instead of scribbling on a piece of paper. And, also you can mention your team members and discuss about the meeting in the Activity section.
Eliminate switching between different applications to schedule events
As it is mentioned above, you can schedule all your sales calls, and team meetings directly from the CRM. With Google Meet integration, you do not have to toggle between the screen and save time by focusing on high-priority tasks.
Set reminders to never miss a meeting
In case you have four meetings lined up, there is a high chance of you forgetting about it and not attending it on the scheduled date and time. To avoid such situations, you can plan your calendar accordingly with Google Meet integration and be available for all the events without a fail.
Create meeting links instantly
Google Meet integration with Vtiger CRM allows you to share meeting links with participants over emails, live chats, etc. You do not have to log in to your Google meet application to schedule business meetings all the time.
Share important files and documents
Google Meet integration allows you to share and discuss essential files, links, or documents while at the meeting. You can discuss sales reports, campaign performance reports, and escalated cases with your team members if you have saved it in a document. You can share the links over the chat option and make way for seamless collaboration.
So, how does Google Meet integration helps you in boosting productivity?
With Google Meet available in different modules in Vtiger CRM, you can easily create more meeting links in less time and share it with your invitees. This way, you will be able to schedule multiple meetings for different purposes without difficulty. Also, you can streamline your meeting schedules effectively with constant reminders which aid you in carrying out other significant activities efficiently.
If you are planning to schedule a webinar in the coming days, implement Google Meet integration with Vtiger CRM for your business. Also, watch this video to get a sneak peek of Vtiger Google Meet integration.
Before signing off, Sign Up for a 15-day free trial now and enjoy Vtiger CRM.
———————————————————————
Click the below link to read other blogs from the series